Welcome to GetMotivation!
Motivation around the clock! This is an Inspirational Community for Self Growth through tools, collaboration and life changing connections. Inspiring people around the world to achieve their greatness since 1996.
---
Subscribe to our FREE Let's Talk Motivation ezine - Each issue features articles and essays from the leaders in the areas of motivation, self-improvement and personal development.
(Your email address will not be shared, or rented,
and you'll be free to unsubscribe at any time.)
---
Featured Motivation Articles ...
=>
5 Characteristics of the World's Most Successful People
- Great leaders are often synonymous with tremendous wealth and prestige. Yet, remarkably enough, most weren't born into affluence. Many faced seemingly insurmountable odds and earned their red carpet time and exclusive interviews through hard work, intelligence, and tenacity...
read more
=>
4 Easy Steps to Stopping Procrastination in its Tracks
- We almost all procrastinate -- let's just get that out in the open. And it's OK. There's nothing wrong with that. Our brains need to rest. They simply need balance. The problem occurs when it looks like the procrastination will never end and we never achieve our important, but complex challenges...
read more
=>
How to start Your Day on Purpose
- I'm big on intentionality. To put it plainly, I'm referring to the act of doing things by choice over chance, or happenstance...
read more
=>
You Don't Have To Know Everything Before You Start Doing Something
- Nothing stifles our success more than the pressure we put on ourselves to do things perfectly, and avoid the possibility of falling short in the attempt....
read more
=>
6 Steps to a Great Work-Life Balance
- If you want to be successful you will have to buckle down and get ready to pay a steep price in your personal life. This is how most people think and live. Yet there's a minority of people, let's call them role models, who have found a way to end this age-old and unforgiving compromise...
read more
Motivational Speakers Hall of Fame ...
The Motivational Speakers Hall of Fame - biographies of such motivational speakers as: Zig Ziglar, Jim Rohn, Napoleon Hill, Dr. Norman Vincent Peale, Les Brown, Stephen Covey, John Gray, Richard Carlson, Dr. Maxwell Maltz, Brian Tracy, Tony Robbins, Dr. Wayne W. Dyer, Barbara Deangelis, Tom Hopkins, Denis Waitley, Mark Victor Hansen, Og Mandino, and a host of others that make up some of the most talented in the public speaking industry -- past and present.


Motitvational Audio Program ...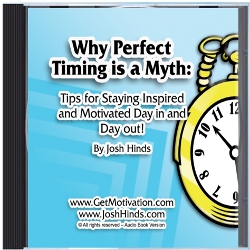 Introducing: A Tool to Help You Achieve Your Goals and Dreams...

Why Perfect Timing is a Myth: Tips for Staying Inspired and Motivated Day in and Day out!
By Josh Hinds

Look what others have to say about it...

"Wow! In Why Perfect Timing is a Myth, Josh Hinds puts together the key ingredients you need to create the life you want. You should get it now for yourself first then everyone you really care about."
-- Rene Godefroy
Speaker & Author of Kick Your Excuses Goodbye
* Get your copy of Why Perfect Timing is a Myth


-- Home | Motivation Newsletter | Write for Us | Advertise | Affiliate Program --